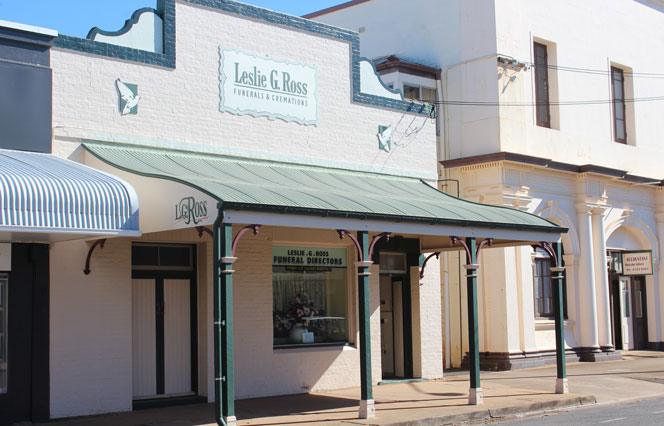 Ross Funerals was established by Leslie and Mavis Ross in 1955. They went on to open a funeral parlour in Adelaide Street, Maryborough – a building Ross Funerals still operates out of today.
Ross Funerals has grown over the years. In the early 1990s we opened an office in Pialba to better service Hervey Bay residents. In 1996 we opened Fraser Coast Crematorium and Bayside Memorial Gardens, and in 2013 we expanded again adding a funeral chapel on Russell Street Maryborough.
A lot has changed since 1955, but our dedication to personal care and professional service has remained constant. The team at Ross Funerals has more than 60 years experience in funerals and memorials on the Fraser Coast.
Ross Funerals is a member of the Australian Funeral Directors Association, an association which has represented professional funeral directors throughout Australia since 1935. The Australian Funeral Directors Association requires its members to abide by a code of ethics, designed to ensure quality premises, facilities and professional staff, thus ensuring the public a high standard of service.
Ross Funerals is also a part of a network of funeral homes, cremation facilities and cemeteries owned by Propel Funeral Partners, which extends to all states of Australia, the Australian Capital Territory and New Zealand. Listed on the Australian Securities Exchange, Propel Funeral Partners is one of the largest providers of funeral and related services in Australia and New Zealand.
We pride ourselves helping families by providing excellent individual care and attention. We can assist you with every aspect of a funeral – our mission is to help during a difficult time.
Ross Funerals offers quality and affordable services and facilities that cater to all walks of life, religious beliefs, and wishes. We can assist with funeral arrangements and services anywhere on the Fraser Coast, in Australia, or around the world.
For more information please phone 07 4124 7511 or email  anytime 24/7.